Plastic Shapes
Telephone 01288 381690
Our lines are open Mondays to Thursdays 10am to 4pm - Fridays 10am to 2pm
Use the Plastic Shapes Quick Price Checker below and order instantly online if the price is right!
Click on any picture for a better view - there are many more pictures below
Instant Price Calculator for Coloured Plastic Shapes
To calculate the price of coloured acrylic discs, rectangles, squares, ovals, circles or triangles simply enter
the details in the following boxes and click the "add to cart button" if you wish to order them
Please phone us on 01288 381690 or email us for the price of other shapes
Please enter the sizes required
All our plastic shapes are made to the nearest millimetre
They are not suitable for applications where very tight tolerances are required
Width in millimetres (Or base size for triangles)
Minimum 25mm Maximum 975mm
Height in millimetres
Minimum 25mm Maximum 800mm
Please enter the quantity of plastic shapes you require


The more you buy the cheaper they are!
Please select the colour and thickness of the plastic shapes you require
All colours are available in 3mm thickness and some colours in 5mm
Click the picture for a better view of some of the colours available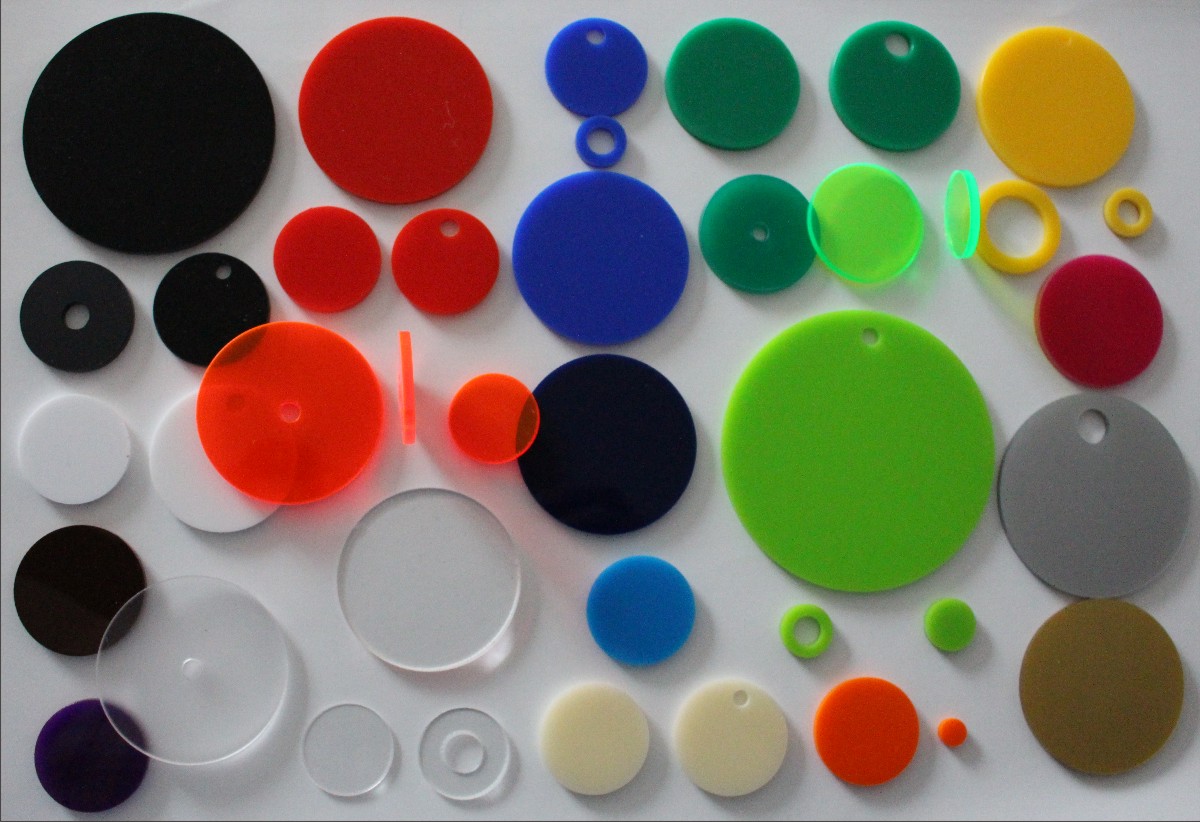 £
The total price is £ INCLUDING VAT and UK mainland postage !
The price you see is the price you pay !
All plastic shapes are supplied with a protective coating on both sides which will need removing
Click on any picture for a better view
We can make Plastic Shapes as Tokens and Keyrings with print them with any picture or photo you supply
Just click on any of our plastic shapes for a closer look
Fitting room tags and discs can be made to customers requirements
Fast mail order service - all plastic shapes are usually delivered within 7 days of your order
All the plastic shapes in the photos are produced from high quality 3mm acrylic sheet in your choice of colours
Click on any picture for a better view
Numbers and letters can be added
Shapes measuring 30mm or more can be supplied with applied pvc coloured numbers or letters and
shapes measuring 50mm or more can be supplied with letters or numbers laser cut through them
The normal price for up to 4 numbers or letters is 25 pence for each shape for either option
Please phone us on 01288 381690 or email us if this is required
Perfect for wall mounted Company Logos, Lettering, Signs and sign board blanks and backgrounds
We can supply shapes and lettering for wall mounting with 15mm spacers
or 20mm silver standoffs as shown in the following pictures

Please phone us on 01288 381690 or email us if you would like these as the prices depend
on the shapes you require and the number of screw holes needed to support them
Click here for Laser Cut Plastic Letters and Numbers
Our plastic shapes are used for fitting room discs and tags, coloured craft painting blanks, clock dials, acrylic earrings and jewellery
school meal tokens, light switch backings, fire alarm surrounds, shop displays, letters, numbers, numbered plastic counters
services markers, sign blanks, house names and numbers, covers for holes around the home and many other things
It's easy to order from C & L Mail Order Ltd!
Our minimum order is only £10
You can pay securely online or you can order online and phone us
on 01288 381690 with your card details if you prefer





Maestro, Visa, Mastercard, Solo, JCB and American Express are all welcomed
You can also pay through

or
if you wish
Please feel free to phone us with your order if you prefer to speak to someone
01288 381690 - Open Monday to Thursday 9am to 4pm - Friday 9am to 2pm
Click here to email us We often reply out of normal office hours
Our answerphone, fax machine and website are always available so you can order at any time
We only operate by mail order
We do not have a shop or any facilities for visitors so we are unable to make up orders while you wait or for collection
You can fax your order to us on 01288 381255
We often reply to emails outside normal working hours
C & L Mail Order Ltd
Holsworthy
Devon
EX22 7ED
Tel 01288 381690
Fax 01288 381255
email
We are always closed for Easter week, Christmas week
and August bank holiday week